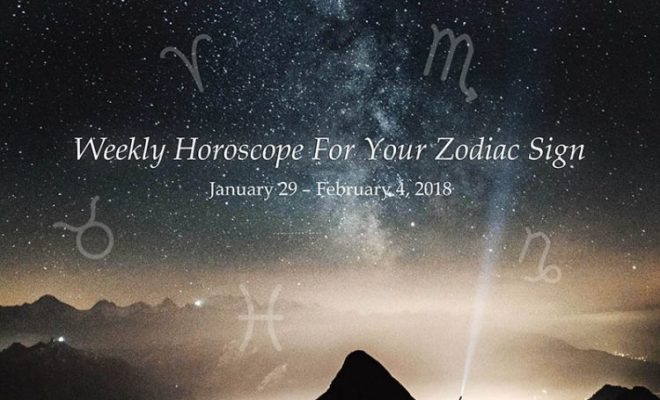 HOROSCOPE
Weekly Horoscope For Your Zodiac Sign For January 29 – February 4, 2018
By
|
Aries
The one you love will be away this week and you are going to miss them terribly. This will lead to a feeling of loneliness. You will find peace if you drift away in your dreams and imagination. You have to adjust to the new changes in your workplace. It may be hard at the beginning, but it's going to pay off in the end. Remember: this week relax as much as you can.
Don't let the stress get to you.
Taurus
Be careful not to get caught inside your head dreaming about love. Some of you will be stuck there and are going to watch romantic movies all alone at home, but some of you are going to get out there and seek what you dream of. You are going to be solving all your problems at the workplace with such ease. Some of your coworkers already think that you are a true problem solver and they never doubted you for one second. You are going to succeed in everything that crosses your mind.
Do what makes you happy and go places that are nurturing your inner peace.
Gemini
This week you are going to have a lot of new opportunities in your love life. If you are already in a relationship, prepare yourself because this week it's all about seducing each other. But, be careful not to become too vain. Overall, you are going to be more than happy in your love life. There will be a potential partnership at your workplace. Make a good plan for your project and remember to keep your eye on details.
Keep positive, no matter what.
Cancer
You are going to exchange all kinds of ideas with your loved one. There will be some unusual and exotic topics, but while discussing them, you are going to connect with your partner on a much deeper level. Those of you who are still single will not give up searching for their soulmates. Try not to be emotional in your workplace because some might think of you as unprofessional when in reality, you are far from it.
Restrain your emotions while working. Make this week a relaxed one and you won't regret it.
Leo
This is a perfect week to bring a new and fun twist to your relationship. Try to go to a new and exciting place with your partner. Those of you who are still single, get out of the house more. Being among people will make you feel better. You no longer look up to people like you used to. You are going to look for new role models. Some of you are going to behave like or even mimic someone from your own profession, someone you know, but try not to do that. You are smart enough to pursue your own goals.
Recharge, you're going to need all the strength you can get.
Virgo
There will be some troubles in paradise. You are going to be torn between your partner and your family. Those who are not in a relationship are going to spend most of this week at home. At work, you are going to be a good spirit. Your jokes will help others relax. This is going to be very encouraging for you and your coworkers.
Try to plan things through because that will save a lot of your energy which you will lack.
Libra
Those of you who have families will spend most of your time with them this week. The ones who are in a relationship have to have self-control and not let themselves be stuck in fights which are not doing any good. Be patient—this crazy period will be over soon. During the week, your ideas are going to get more brilliant and others will like them, too. Also, there is a possibility for a public display of your talent.
Stay true to yourself.
Scorpio
Don't put yourself down. Your situation in a relationship is not ideal, but it's getting better as time goes by. Be patient and don't let anything upset you. A better tomorrow will be knocking on your door soon. You are going to have a chance to make some progress in your workplace. Observe your opponents closely and then make a move. This week, don't get too lazy.
Work and relax. One at a time.
Sagittarius
This week won't be as challenging as you want it to be. But don't despair because of that. It's time to spend a nice quiet week. Accept appreciating the small stuff in life. A lot of people in your workplace will finally realize that you have more than one talent to show. This week you are going to have a chance to prove how good you are in what you do.
Take it easier than usual.
Capricorn
You've finally cracked the code for seducing a particular someone. Take it slow, don't rush and you are going to succeed. Just do one thing at a time. At the workplace, you may think that a lot of strange things that are happening to you are a coincidence, but they are not. On the other hand, things are not so blue because you are slowly catching up. Just do one thing at a time and you are going to succeed.
Don't rush into things of which you are unsure.
Aquarius
This week, don't sweat the small stuff because it is not that important. Enjoy the little things because sometimes that is what brings your life true joy. Enjoy things you have and live your life. The rest of them will only dream of being as happy as you are. You'll have to cooperate with others at your workplace. You are very ambitious, but keep it low profile for now. Now, do all the planning you need, but wait a few days for realization.
Be patient.
Pisces
Remain in your status quo. Feel free to daydream and try to spend your time meditating and being alone. Don't expect more of what you already have.This week is perfect to work on your professional growth. You are not a perfectionist by nature, but you are going to find all the information on how to be one.
The truth is what you believe it to be.
By: herway.net