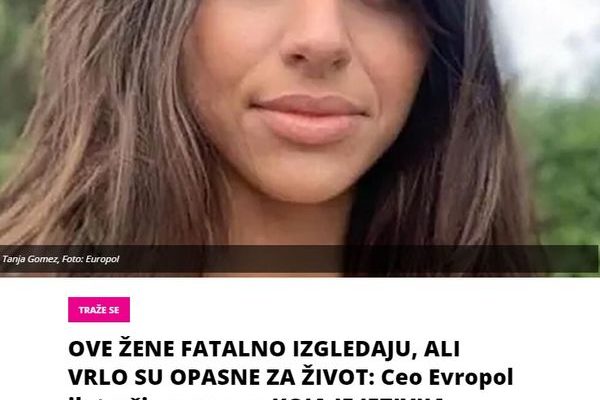 Balkan news
OVE ŽENE FATALNO IZGLEDAJU, ALI VRLO SU OPASNE ZA ŽIVOT: Ceo Evropol ih traži, ne zna se KOJA JE JEZIVIJA (FOTO)
By
|
Europol calls on all citizens to help find criminals, including women. They are looking for a total of 62 criminals, including murderers, drug smugglers and serial fraudsters.
There are mostly male criminals on the wanted list, but you should be careful with some women as well.
These are the four most dangerous women in Europe:
She was dealing drugs at the age of 19
Marzia Marimar Kaleja Matuk (23) from Malta is only 1.60 meters tall but is on the "dangerous list".
Marzia Marimar Kaleja Matuk
Marzia Marimar Kaleja Matukphoto: Interpol
In August 2019, police officers stopped a then 19-year-old girl and found what they were looking for – Kaleja Matuk was transporting drugs.
The amount of drugs found suggested it was not just for personal use. The girl, who had tattoos on her arm, hand and face, was then accused of drug trafficking. Verdict: 15 months in prison and a fine of 3,500 euros.
The verdict was appealed, but before a new trial took place, the girl fled Malta and has been hiding ever since.
According to intelligence data, she is on the run with her husband, Jomiko Kalej Matuka (38), who is also being sought.
He is wanted because he wanted to obtain synthetic drugs and materials for making explosives on the Darknet.
Divorce through a hit man
On January 24, 2014, Eva Zamečnikova (42) from Slovakia wanted to finally separate from her husband, but not through divorce but with the help of a hired killer.
Eva Zamecnikova
Eva Zamečnikova photo: Interpol
Eva hired a man with a criminal record for her plan and promised him 50,000 euros, but she had no luck.
After several failed assassination attempts, the contract killer turned himself in to the police and became a Crown witness.
Eva denied the charges in court, but was still sentenced to eight years in prison. When she was briefly released in August 2014 due to the birth of a child, Eva took the opportunity to escape.
According to the indictment, she planned to declare her husband missing two years after the murder and thus get the rest of their house. According to the crown witness, the reason why she wanted to get rid of her husband was that she did not want to "feed him".
Mafia bride
Tanja Gomez (31) could compete with many models, but the attractive Swede chose a criminal career instead of modeling. According to Europol, Gomez is a dangerous member of the drug mafia!
Tanya Gomez
Tanja Gomez photo: Europol
According to investigators, the brunette mafia bride was transporting kilograms of drugs and millions of dollars in cash across Europe.
As head of the international animal rescue organization "HundGarin", Gomez was not only involved in drug trafficking, but also deeply involved in mafia money laundering.
During the raid in Stockholm, the police found bags full of money, more than a million euros! After the raid, Tanja went into hiding and has been on the run since March 2021.
Exuberant imagination and the power of persuasion
Marina Kramberger (33) clearly has a great power of persuasion and a vivid imagination. Unfortunately, the Slovenian uses her abilities to the detriment of the environment – she is wanted as a dangerous serial fraudster.
Marina Kramberger
Marina Kramberger photo: Policeja.si
Marina faces a prison sentence for several criminal offenses of fraud. She has been on the run since July 20, 2021 and continues to commit crimes.
She is suspected of telling adventurous lies and convincing her victims to transfer large sums of money to her, rent accommodation or borrow money. In the end, victims are left with bills to pay.
According to Europol, Kramberger travels very often and is most likely with another woman.
Information about wanted women and other criminals can be provided anonymously through the site.